A HIDDEN GEM: DISCOVER MIRAMAR!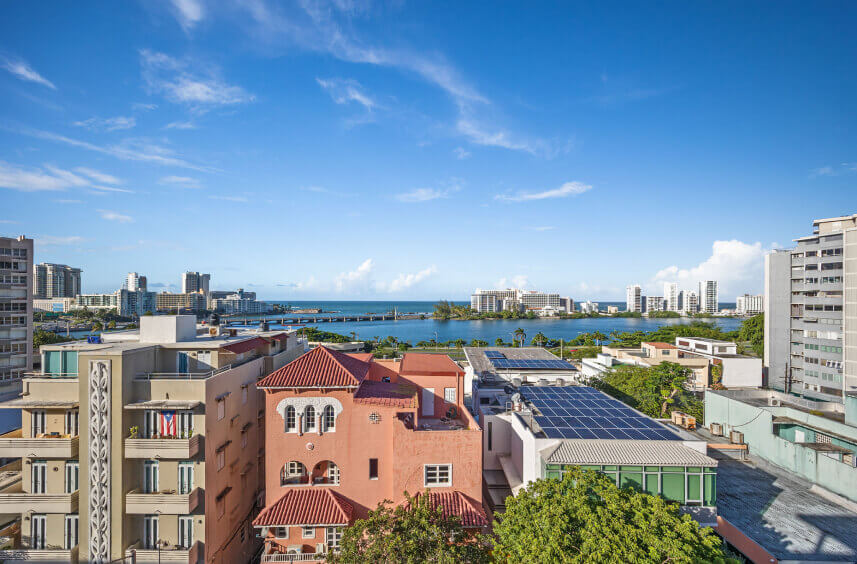 At the heart of the historic district of Miramar
Miramar stands out as one of the exclusive spots in Puerto Rico that offers an urban lifestyle experience. It celebrates vibrant art and a wide range of culinary choices that highlight the daily lives of local residents and their warm sense of community. This neighborhood's historic charm gracefully merges classic architecture with modern elements that bear the imprints of different families, developers, and architects across various epochs.

Moreover, you will be just steps away from an enticing array of dining options, cultural museums, Old San Juan, the Condado area, and the recently launched Distrito T-Mobile at the Puerto Rico Convention Center.
The experience at the Don Rafa Boutique Hotel & Residences goes beyond its stunning architecture. In addition to offering a welcoming atmosphere and attentive service, its prime location provides an opportunity to fully embrace Puerto Rico's urban lifestyle and captivating history firsthand. 
Nestled in the picturesque residential neighborhood of Miramar, which is home to little less than 4,000 residents, this area offers a unique and delightful way of life. Simply stepping out of the hotel allows you to observe the daily routines of your neighbors, who contribute to creating a warm and inviting environment. Whether they are heading to the grocery store, walking to school or church, commuting to work, enjoying a leisurely coffee break, or savoring a delicious meal at one of the nearby restaurants, you will feel a sense of belonging throughout your stay.

Some families have been living in this neighborhood for more than three generations. Their presence in the neighborhood dates back to the beginning of the 19th century, when the urban development of Miramar began. That is why its streets, structures, and people are a living history. Experience Miramar's vibe and history just by walking through the neighborhood. Its historic charm blends the old with the modern and features structures with the signatures of many families, developers, and architects from different eras.

So, if you are a fan of architecture, you will be able to appreciate a great variety of typologies and architectural styles present in the neighborhood, such as Quintas and 'Raised Cottages', Victorian Architecture, Gothic Resurgence, Bungalows, Spanish Revival, Art Deco, Chalets and Duplexes, and Moderne and Modern Movement. However, Miramar is much more than words can explain. Allow yourself to get to know the neighborhood and let yourself fall in love with its charm.
Explore Miramar & Surroundings
Museo de Arte y Diseño de Miramar
Museo de Arte Contemporáneo
Museo de Arte de Puerto Rico
Conservatory of Music of Puerto Rico
Galería Agustina Ferreyra
Caribbean Cinemas Fine Arts